Southern Regional Science Association

Founded in 1962, the Southern Regional Science Association provides intellectual leadership in the study of social, economic, political and behavioral phenomena which have a spatial dimension. The Association brings together scholars from a large number of fields, including economics, geography, urban and regional planning, civil engineering, sociology, finance and political science. The SRSA sponsors an annual conference, a graduate student paper competition, and provides other services for members. Visit the SRSA website for details.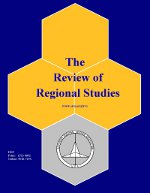 The SRSA publishes The Review of Regional Studies, a peer refereed journal published three times per year. Visit the Review website for details on the submission of articles and for journal subscriptions.