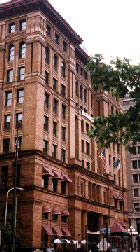 The North American regional organizations bestow awards and prizes at annual conference to encourage scholarly participation by graduate students and junior faculty members.
Southern Regional Science Association (SRSA)
The SRSA sponsors the Barry Moriarty Student Paper Competition to promote graduate student scholarship in the field of regional science. The award provides a cash prize. Graduate students interested in submitting papers for the competition will find details on the SRSA website.
Upon its 40th anniversary, the Regional Research Institute at West Virginia University initiated an award for scholarly excellence in honor of Dr. William H. Miernyk, founder and first Director of the Institute. The William H. Miernyk Research Excellence Medal (the Miernyk Medal) is awarded annually at the Southern Regional Science Meeting to the author of the best solely-authored SRSA conference paper written and presented by an assistant professor. A monetary stipend accompanies the Miernyk Medal. The winning paper will report the diligent and systematic enquiry and discovery of facts or principles relating to a topic of interest to regional scientists. Visit the SRSA website for details and submission guidelines.
Mid-Continent Regional Science Association (MCRSA)
Students enrolled in undergraduate or graduate degree programs are eligible for the MCRSA student paper competition. Student papers dealing with all aspects of regional development, including cultural, physical and economic processes, are welcome. The first place winner receives $150 and the M. Jarvin Emerson Award. The winning entry is published in the Association's journal, The Journal of Regional Analysis & Policy. Second place winners receive $100. Students wishing to submit a paper should consult the MCRSA website for submission guidelines.
The Western Regional Science Association (WRSA)
The WRSA sponsors the Tiebout Prize for the best paper submitted by a full-time graduate student enrolled at an accredited academic institution. Papers should be in the general discipline of regional science. The winning author receives $1,000 to help defray the costs of attending the Association's annual conference. The paper also will be published in the prestigious international quarterly journal The Annals of Regional Science following regular review procedures. Small travel awards may also be made to authors of papers judged worthy of designation for "Finalist" status in the competition. Visit the WRSA website for details and submission guidelines. Those wishing to contribute to the Tiebout Prize Endowment by check should make it payable to "University of Arizona Foundation" (which manages the funds). Please note on the memo line of the check: "Donation: WRSA Tiebout Prize Fund" and mail to WRSA Executive Director Jaewon Lim at the address listed on the WRSA website.
Each year the Springer Prize is awarded for the best paper presented at the WRSA's Annual Meeting by an early-career scholar. The prize consists of a certificate and selection of Springer books as chosen by the winner. The competition is judged by the co-editors of the Association's official journal, The Annals of Regional Science.