Brian J. L. Berry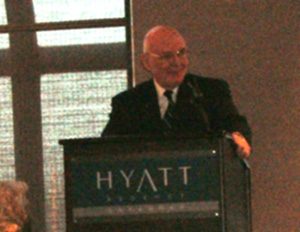 Brian J.L. Berry, a native of England, received his B.Sc. in Economics at University College, London in 1955, and his M.A. (1956) and Ph.D. (1958) in Geography from the University of Washington.
He taught at the University of Chicago from 1958 to 1976 and at Harvard from 1976 to 1981.  Following that was appointed dean of the Heinz School of Public Policy at Carnegie-Mellon University for a period of 5 years and then in 1986 he joined the University of Texas at Dallas, and has remained there since.
Brian is a Lloyd Viel Berkner Regental Professor.  He is a world-renowned geographer, with expertise in regional economics and urban development.  He is recognized as a dominant intellectual force in the development of the modern discipline of geography.  His early urban and regional research and associated work in spatial analysis helped spark the social-scientific revolution that occurred in geography in the 1960's, leading him to become the world's most frequently cited geographer – a ranking he maintained for more than a quarter century.  His studies subsequently focused on long-wave dynamics and their relationships to macro-historical phasing of economic development and political behavior.
Berry has authored over 500 books, articles and other professional publications.  Throughout his career he has been concerned with bridging theory and practice, heavily involved in urban and regional development planning in both advanced and developing countries.  He has been frequently called on as an advisor, consultant, and expert witness. His planning contributions have been made in cities as diverse as Chicago and Calcutta, Jakarta and Melbourne and his regional development expertise has been applied in areas from Appalachia to Magellanes and to Indonesia.
Berry was elected to the National Academy of Sciences in 1975. He is also a fellow of the British Academy, the American Academy of Arts and Sciences, and University College, London. In 1988 he was awarded the Victoria Medal from the Royal Geographical Society. In 1999 he became the first geographer and one of the few social scientists ever to serve as a member of the Council of the National Academy of Sciences, and in 2004 was a founding member of the Academy of Medicine, Engineering and Science of Texas (TAMEST).  In 2005 he was named Vautrin Lud Laureate.