Tourism Information
Things to Do and See in Atlanta
Atlanta is a modern city, offering visitors many options for dining, leisure, and nightlife. Below are a few suggestions of Atlanta's attractions for your enjoyment during your stay.

Georgia Aquarium
Dive into a one-of-a-kind aquatic experience at the Georgia Aquarium, where imaginations go to play. At the world's largest aquarium, you'll discover graceful beluga whales, spectacular whale sharks, playful penguins and aquatic animals from around the globe. Make a splash with the AT&T Dolphin Tales exhibit – a theatrical experience featuring live actors, elaborate costumes and, of course, dancing dolphins!

World of Coca-Cola
Experience the intriguing World of Coca-Cola! The attraction features a multi-sensory 4-D theater, an extraordinary 1880s soda fountain, live-action bottling line, and the opportunity to sample nearly 60 different beverages from around the world. Now you can experience the quest for one of the world's best-kept secrets in the Vault of the Secret Formula.

Atlanta History Center
The Atlanta History Center features 32 acres of gardens, wildlife trails and woodland areas. The complex includes the Tullie Smith Farm (1840s) and the fully restored 1928 Swan House mansion. The museum offers exhibitions on the Civil War, African-American heritage, and Southern folk art, with a wing dedicated to the 1996 Centennial Olympic Games.

Margaret Mitchell House
The three-story Tudor Revival mansion in Midtown was the home where author Margaret Mitchell wrote the Pulitzer Prize-winning novel, "Gone With the Wind." The house offers tours, a museum and shop, as well as a literature series.

Martin Luther King Jr. National Historic Site & Sweet Auburn District
The area of Sweet Auburn served as the thriving center of Atlanta's black enterprise from the 1890s to the 1940s. At the Martin Luther King Jr. National Historic Site, explore his birth home, historic Ebenezer Baptist Church and The King Center, where Dr. King's Nobel Peace Prize is displayed. The crypt and grave site of Dr. King and his wife, Coretta Scott King, are also located here.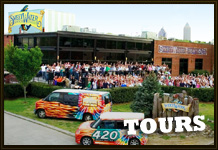 Sweetwater Brewery
The Sweetwater Brewery tour takes you behind the scenes for a sneak peek into Atlanta's legendary local brewery. Kick off the tour with a tasting of the season's best sellers and an introduction to The Creature – mascot of the Dank Tank experimental beer series.